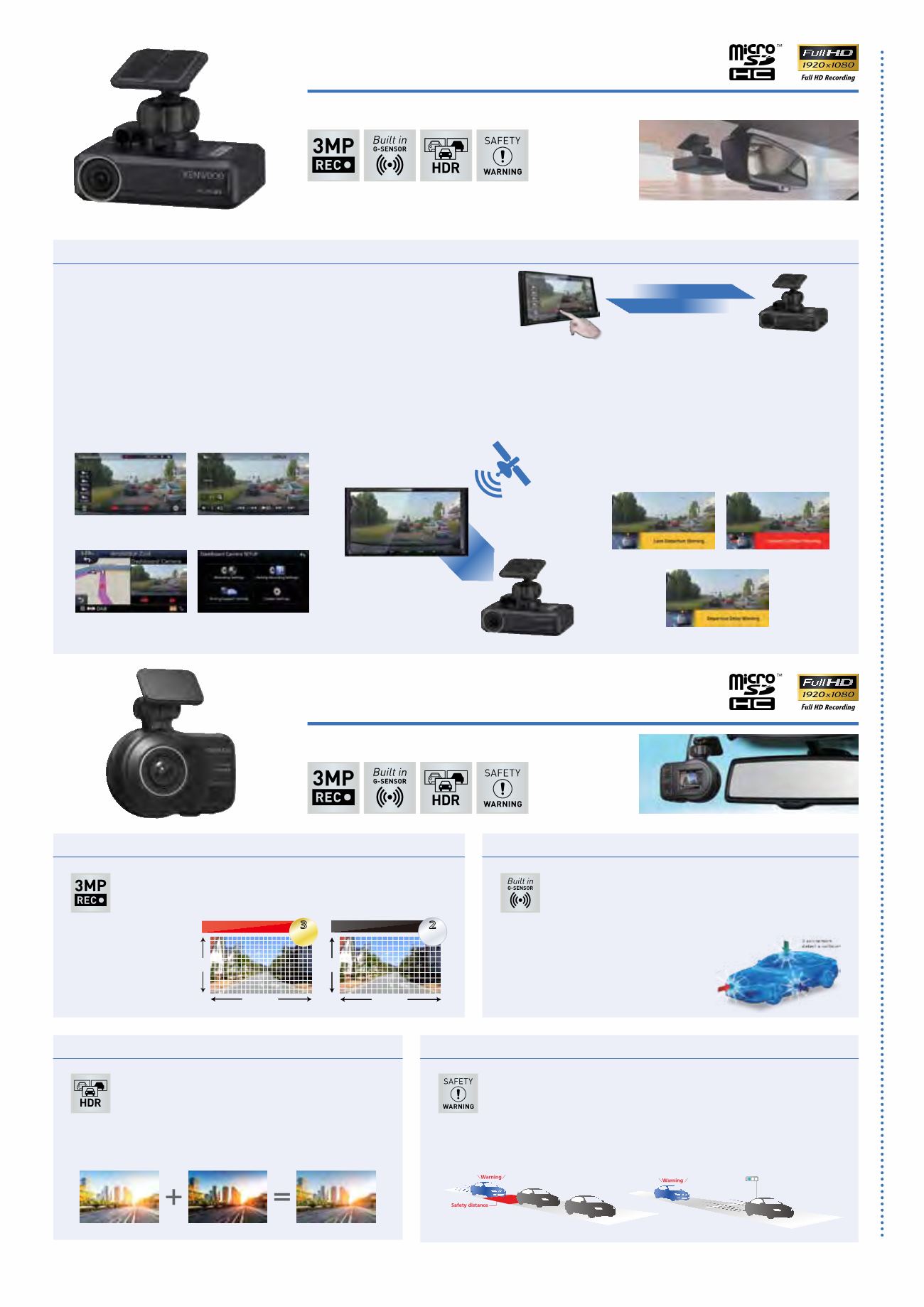 GPS Function
By linking with the head unit, more
accurate location information is sent
from the head unit and stored on the
* Available for DNX8170DABS, DNX7170DABS, DNX5170BTS/DABS,
DDX9717BTS, DMX7017BTS/DABS only.
Navigation Linkage Dashboard Camera
GPS Integrated Dashboard Camera
DRV-N520
DRV-410
Safety and warning features can be activated to avoid frontal
collisions, e.g. when an unintentional lane departure happens
you will get an alert warning.
SAFETY
CollisionWarning
Departure DelayWarning
Thanks to HDR (High Dynamic Range)
technology, DRV-N520 and DRV-410 can
record video at dark and bright locations, without
underexposing or overexposing the image.
HDR FOR BACKLIGHTING
3 MEGAPIXEL RECORDING
2-WAY NAVIGATION LINK
3 Megapixel Recording provides higher resolution than
Full HD (1920 x 1080). 3 Megapixel High Definition
By linking your head unit with DRV-N520 dashboard camera,
KENWOOD provides you a wealth of additional features.
Touch Control
Recorded videos can be displayed on
the large screen, and operated from the
Safety Alert
DRV-N520 is equipped with the safety
alert function. Dangerous situations such
as lane departure or forward collision are
detected and a beep sound and caution
pop-up is displayed on the head unit.
3
2304pixels
1296
pixels
3Mega recording
2
1920pixels
1080
pixels
Full HD
BUILT-IN G-SENSOR
When the G-Sensor detects any sudden motion,
DRV-N520 and DRV-410 will automatically save
and lock the recording to protect it from being deleted.
The integrated 3-axis sensor records
G-force which shows the direction
and the strength of possible impact.
2-Way
Recording & Photo Shooting
Lane Departure
Departure Delay
Combination Display (P in P)
Playback Control
Forward Collision
Dashcam Setup
Location
Information
GPS
Satellite
11
DASHBOARD CAMERA