CAX-AD100
High Accuracy, Portable Digital Breath Alcohol Tester with LCD Display.
Portable breath alcohol concentration tester uses advanced semi-conductor sensor to ensure accurate result in short time.
---
Uses High-precision, high-sensitivity, high-quality sensor made in Japan
| | |
| --- | --- |
| KENWOOD's premium analyser is quick to respond and has a highly accurate measurement. The sensor is heated to accelerate the reaction, plus heating removes dirt and impurities adhering to the sensor. | |
How the Sensor works
Steps:
1:
Oxygen in the atmosphere and electrons in tin oxide are combined, making it difficult for electrons to flow.
2:
Blowing on the sensor with alcohol gas,
3:
Alcohol gas replaces the oxygen on the sensor surface where electrons are bound
4:
Alcohol gas absorbs the oxygen and separates it from electrons.
5:
Electrons separated from oxygen change to a state where it is easy to flow, and this change in resistance value is used to measure the alcohol concentration.
Elements:;
A: Tin oxide/Sensor
B: Oxygen
C: Gas
---
Supports straw method and open blow method 2-way measurement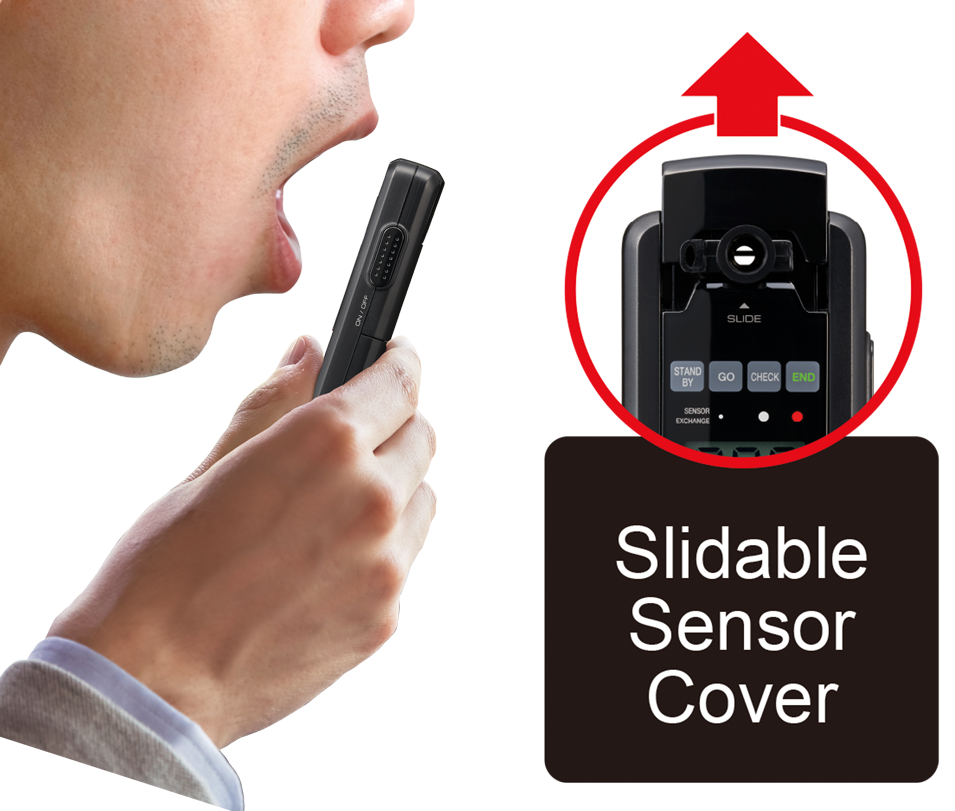 Supports 2-way measurement of straw method and open blow method. The straw method is less affected by the environment than the open blow method that blows exhaled air directly. This enables more accurate measurement.

---
Stylish design & compact design
Compact design that fits in one hand with a clean and slim design, so you can easily use it at home, or when you are on a business trips.The sensor cover has to be closed when you are not using the unit, so it protects the highly sensitive sensor.
---
5000 times long-term sensor and life notification function
| | |
| --- | --- |
| The sensor can measure up to as many as 5000 times. When you exceed this amount of measurements, the sensor replacement mark will flash to inform you of the lifestatus. | |
---
Easy operation and high precision measurement
● Measurement timing Electronic sound
At the time of measurement, the countdown of the digital display starts, and the timing is notified by electronic sound.
● LCD display of alcohol value during exhalation
Clear mesurement is possible with a digital display from 0,00mg / l without cutting the low concentration area of alcohol


* 0.05mg / l or less is displayed as 0.00 mg / l

● Power saving design and automatic power off function
Power-saving design that can measure 1200 times with 2 AA alkaline batteries. Even if the power is left on, the power will be turned off automatically after 1 minute, so you avoid depleted batteries.